MyTechMag, a pioneering tech magazine has acknowledged Atempo—a leading independent European-based software vendor with a global presence, offering Disaster Recovery solutions to protect, store, move and recover all your data—one among the "Top 10 Promising Disaster Recovery Solution Providers 2020″ who are transforming companies with their unique solutions.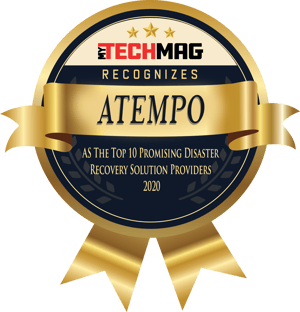 MyTechMag are industry trailblazers owing to their unique coverage of news, articles & companies concentrating on technological innovations & trends.
Atempo's innovative technology makes it one of the pioneering companies catering exclusively to the Disaster Recover sector and currently featured in the "10 Promising Disaster Recovery Solution Providers 2020″ edition.
Michael Stewart, Managing Editor of MyTechMag says, "Atempo preserves data ecosystems for mid-sized and corporate organizations globally. ​They have a reputation for high-level technical expertise in protecting and migrating very large data volumes (Bank & Finance, Life Sciences, Industry, Media & Entertainment). It is an honor to recognize Atempo as one among the Top 10 Promising Disaster Recovery Solution Providers 2020 who are transforming the industrial eco-space with their best in class solutions."
"Preserving data ecosystems" … Atempo's baseline defends this concept. It shines a light on the paradox of the infinite yet fragile resources that represent your company's data. It underlines the vital importance of data backup and the importance of data movement which ensures adequate oxygenation for the organization. It also encourages the company to behave responsibly with the resources that comprise their data ecosystems: human, material, financial, energy.
Luc d'Urso, CEO at Atempo said, "This is a unique opportunity to shine a light on our unique solution through which a multitude of industries can benefit immensely. We are revolutionizing how companies preserve their data."
Read more : Atempo Disaster Recovery Solutions - My Tech Mag