Atempo releases Miria 4.1, a game-changing new version of its flagship data management platform that now includes AI-driven "Intelligent Auto-Tagging" for video archive workflows
Paris, France (June 5, 2023) – Atempo, a leading European software manufacturer of data protection and data management solutions, announced the latest version of its all-in-one data management platform, Miria 4.1. This new release with "Intelligent Auto-Tagging" creates additional value and monetization of video archives. Miria 4.1 improves organizations' efficiency to manage and access their video content by providing accurate and comprehensive metadata generated automatically from archive workflows.
Atempo's Intelligent Auto-Tagging (IAT) is a powerful new AI-driven feature of Miria Archiving that automatically enriches archived videos with high-quality descriptive metadata, providing valuable information about their content. Miria can identify physical and conceptual elements within these assets, such as objects, emotions, and themes. In addition, the AI models can instantly categorize visual content and automatically tag it with precise keywords, making it quickly searchable via Miria's intuitive Web interface.
"Using AI to automatically and accurately enrich archived videos with descriptive metadata provides new value to businesses," explained Louis Laszlo, VP Product Management, Atempo. "By using Miria's Intelligent Auto-Tagging, businesses can make informed decisions about
how to best use their content and, ultimately, lower operational costs."
The automatic metadata enrichment of archived videos provided by IAT allows organizations to locate and repurpose large archives of video assets easily and quickly. IAT is an ideal solution for companies with large video archives such as broadcasters, production studios, and streaming platforms, or any businesses that need to archive, identify and re-use large volumes of video assets quickly and efficiently.
Architecture: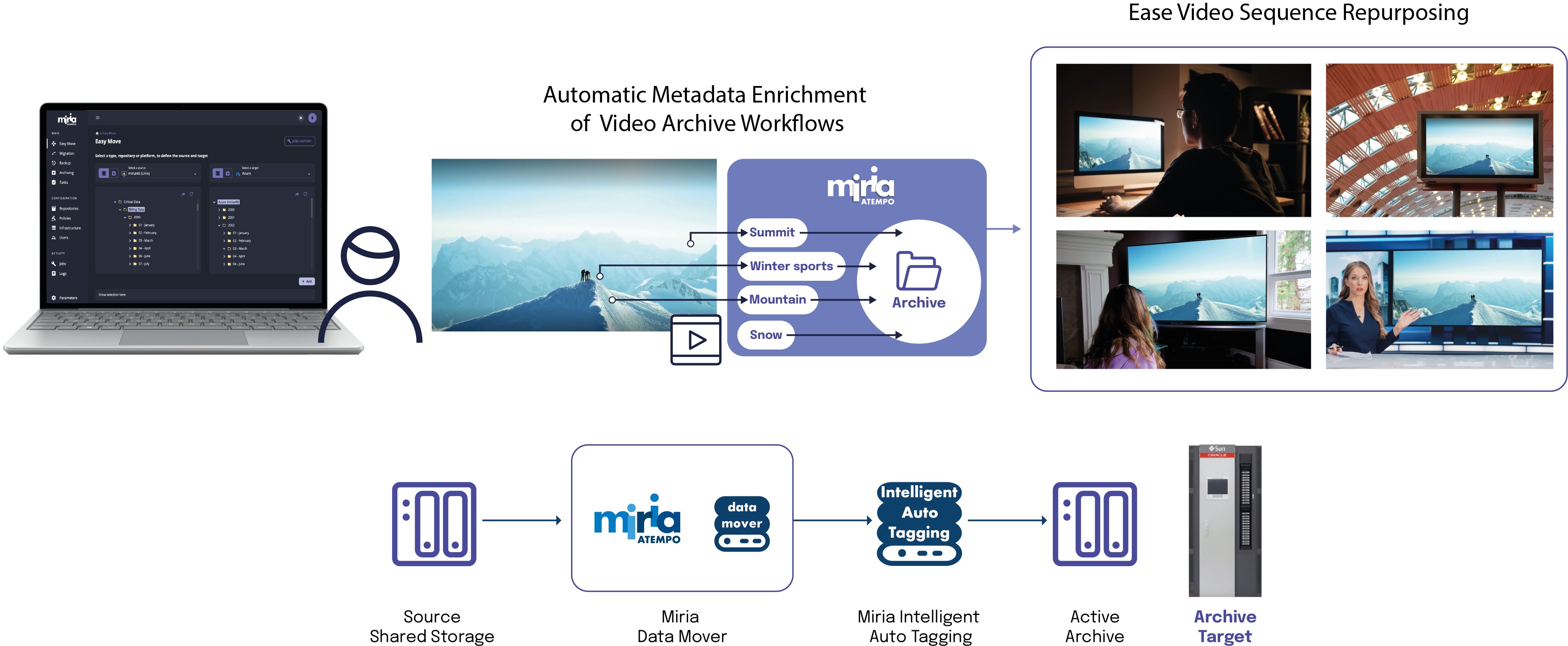 The volume of metadata added for one-hour of video is about 5KB for each sec of video, or 75KB for a 15mn video asset, and 300KB for one hour. The asset resolution, whether 8K or 4K does not change the volume of metadata generated. By combining this new feature with the "Asset Preview" option Miria streamlines the process of enriching the archived asset automatically and offers the user a targeted preview at retrieval time.
Ultimately, this new release of Miria with Intelligent Auto-Tagging (IAT) is a game-changer for businesses with large libraries of video assets. Atempo delivers a highly cost-effective way to manage digital asset archiving that can increase revenue and lower operating costs by allowing organizations to make strategic and informed decisions about their metadata. IAT comes with any Miria Archiving license at no additional cost, increasing the overall value of Miria Data Management platform.
Miria 4.1 also introduces new Miria Analytics features to empower Storage Managers and Business Users to analyze and act on unstructured data across all storage platforms used by their organization. These evolutions include Personalized Tagging to automate storage data classification using custom search criteria and Actionable Insights for initiating data movement tasks directly from the Analytics refined search results.
Miria 4.1 will be available at the end of June 2023.