Atempo booth #4
Meet our specialists and learn more about Miria, an all-in-one data management platform for moving, protecting, and archiving large volumes of unstructured data generated by High-Performance Computing (HPC), regardless of the type of storage used.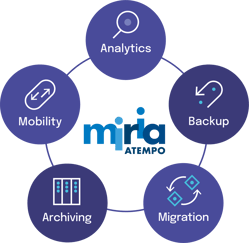 Don't miss this opportunity to find out how Miria helps in streamlining HPC data for scientific discovery.
Facing the challenge of managing the massive volumes of data required for particle physics and cosmology research, find out how Miria, a flexible Data Management Solution is being used to empower scientific discovery at the University of Edinburgh's HPC facility. Learn more about the implementation with Lustre environment backup, preserving existing data securely stored and protected, followed by the integration of Miria Archiving which provides efficient long-term data storage and retrieval.