The Enterprise World releases "The Trailblazing Companies to Watch 2019"
The Enterprise World, is a business magazine providing a platform for leading business minds to share their corporate success stories. The introductory issue is just out this month.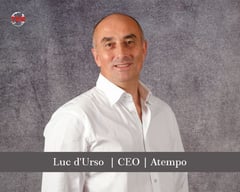 The Trailblazing Companies to Watch Out For: 2019, the US edition, features the stories of pioneering companies in their industry.
Featuring on the latest cover story is Atempo, a globally renowned data protection and management software vendor. With impeccable services to help companies recover and move their data easily, Atempo is now shifting emphasis from backup to global data management.
Read the complete Atempo article here.
Atempo is a globally renowned data protection and management software, vendor. For many years their Time Navigation (Tina) solution has protected thousands of customers worldwide enabling them to journey back in time to recover data – systems, applications, and files- from any point in the past. Tina continues to thrive but Atempo is today shifting emphasis from backup to global data management. Why? In an era of high redundancy and cloud-delivered services, the emphasis is less on protecting on-premise applications and systems. But unstructured data levels (files, images, emails…) continue to rise exponentially and this data needs to be stored locally or remotely. The challenge is not only to protect this data but move it, copy it, synchronize and exploit it.
This is where Atempo's Miria takes the stage.
Miria manages new and evolving storage needs as well as the obsolescence of existing storage facilities. Companies can now choose between new generations of NAS, cloud or object storages, or specific file systems, either in their data center or the cloud. One of the key steps in these storage redesign projects is the migration of existing data to new storage environments.
"We designed our Miria solution while listening to our customers and technology partners. Many had problems migrating or protecting large amounts of data in heterogeneous storage, such as NAS, object storage, or specific file systems, in their data center or in the cloud. They wanted to be able to protect, archive, move and migrate data easily, with great scalability and flexibility without impacting their production. Miria fully meets these needs by offering a powerful solution that can handle heterogeneous environments and large volumes of data." said Hervé Collard, VP Marketing at Atempo.
Petabyte-scale levels of data are reached and exceeded by a growing number of organizations. Research, fin-tech, IoT, space, petrol, and gas exploration are just some of the sectors creating thousands of terabytes of new unstructured data every day. We will see data volumes rise from 33 zettabytes in 2018 globally to 175 zettabytes in 2025 (Source IDC).
Simply storing this amount of data will be a genuine industrial challenge. One which Atempo is already meeting full on. Extracting value from unstructured data with Machine Learning and AI algotithms will be at the heart of many business drivers.
"Atempo takes care of all your data protection and management needs. Miria is a go-to solution for all sectors and industries because no-one will be able to avoid investing in tools for managing massive data sets" affirms Luc D'Urso – Chief Executive Officer, Atempo.